OmniPalette
Tired of clicking through components looking for what you need in Workbench? OmniPalette brings the power of search to your Side Bar.
$25

Overview
OmniPalette is a free productivity plugin for Niagara Workbench
Every component, service, and graphic from all of your modules can be searched in one simple interface. If you remember the name – or even just part of the name of what you're looking for – type it in the search bar. Want to discover something new? Just type in a keyword and see what components exist.
Why use OmniPalette
Increase Productivity
Time on a job is precious – there is never enough, and you can't get back what you've spent. Increase your throughput by never again wasting time searching modules one by one.
Discover Components
Searching aids in discovery. Discovery leads to smarter logic, better interfaces, new ways of working, and happier customers.
It's Free!
All we ask is that you sign up to our mailing list. We'll keep you up to date with our latest news and you get free stuff – it's a win-win!
What's New in Version 1.0.1
Components in OmniPalette now display which module they are from to help you decide which component is right for the job and to help you recall palette names in the future.
We squashed a few bugs including a major one that would prevent searching if certain modules were installed.
Getting Started
Download OmniPalette and extract the file
Copy the OmniPalette JAR file in to your modules directory. If Workbench is open, close it and reopen
In Workbench, select NiagaraMods OmniPalette from the Side Bars dropdown menu
OmniPalette will now begin loading in your Side Bar. It may take a few seconds to index your modules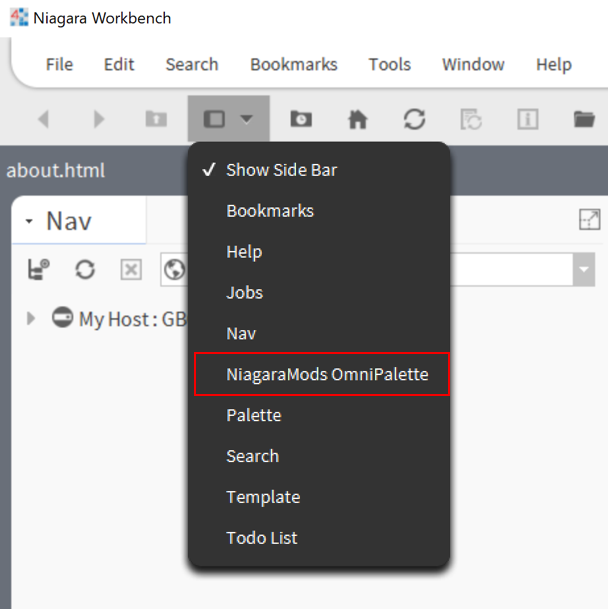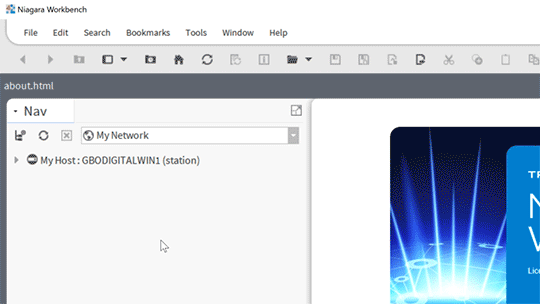 Usage
Using OmniPalette is easy. As you type in the search box, OmniPalette will filter its list of components.

When you've found what you're looking for, simply drag and drop your component – just like the traditional Workbench palette.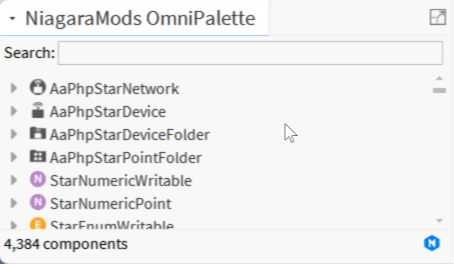 Frequently Asked Questions
How do I install OmniPalette in Workbench?
How do I open OmniPalette after it's been installed?
How do I use OmniPalette?
Which versions of Niagara does OmniPalette support?
Is OmniPalette available for Niagara AX?
Why do I have to subscribe to download OmniPalette?
Do I need a license for OmniPalette?