Font Awesome
Icon Pack
Get 1,000+ icons with our free icon pack
$50

Overview
FontAwesome Icon Pack is a free module that includes icons from one of the most highly awarded and widely recognized icon collections on the planet.
FontAwesome is a free icon pack for anyone to use. The only problem is that it's been designed to work for developers building web sites and applications. This module encapsulates the icon collection and includes a simple Niagara component that you can drag and drop in to your views.
What's New in Version 1.0.1
Native color pickers have been added to the backgroundColor and color properties to make it even easier to pick the perfect color for your icons.
We added a new property called backgroundCss that allows you to have even more control over the background of your icons. You can now include images, colors, and gradients in your backgrounds. For more information about what's possible see the Mozilla CSS Documentation. Note that setting the backgroundCss property will override values set for backgroundColor.
We fixed a bug that would cause icons to not appear in web browsers if they were created using the Duplicate function in view editor.
Getting Started
Download and install the FontAwesome Icon Pack to Workbench and add it to your station.
Edit the view you wish to add an icon to and open the FontAwesome Icon Pack palette (nmodsicons).
Drag the FontAwesome Icon component from your palette to your view
The NiagaraMods logo will load in, double-click it to edit the properties and set the icon property to the icon name you want to use.
Change any other properties including the iconStyle, color, and backgroundColor. Then click "OK".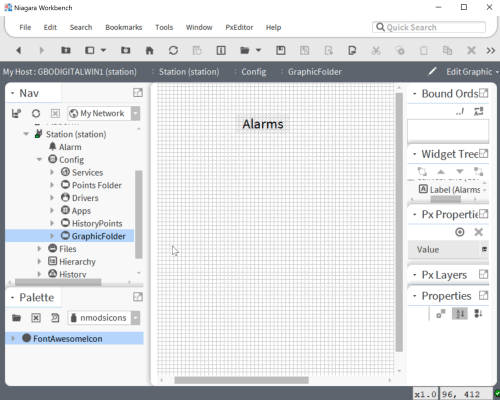 Choosing an icon
FontAwesome Free includes 1,086 icons – 151 icons in the regular style, and 935 in the solid style. You can search for icons on the FontAwesome website. Remember if you want to use a regular style icon, you need to change the iconStyle property of the widget to regular from the default of solid.
Our top picks
We've categorized a list of common icons that would be great for your BAS interface. View the full list or choose a category below:
Search the entire collection
You can search the entire collection of icons on fontawesome.com. Remember to select "Free" and either "Regular" or "Solid" as your search critera. The links below will take you to a search that only includes the icons in the module:
Free Regular Icons Search (don't forget to change iconStyle to regular when using these icons)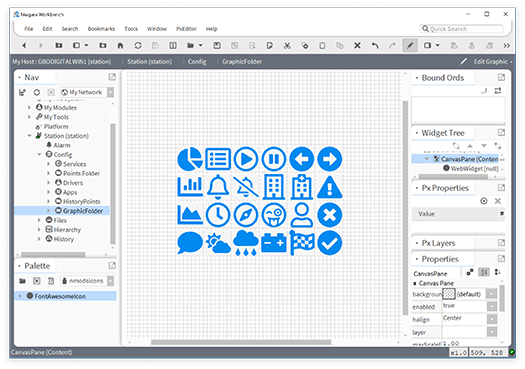 Frequently Asked Questions
How do I install FontAwesome Icon Pack?
How do I use the FontAwesome Icon Pack?
Which versions of Niagara does the FontAwesome Icon Pack support?
Is the FontAwesome Icon Pack available for Niagara AX?
Why do I have to subscribe to download the FontAwesome Icon Pack?
Do I need a license for the FontAwesome Icon Pack?