Latest Release
1.6.0
June 17, 2022
Our comprehensive documentation is available on the web and directly in Reflow using the Documentation & Help link.
Follow along with us step-by-step on YouTube or use them as a quick reference while you're on the job.
Get the most up to date information on new releases, upcoming features, and tips & tricks.
If you need help or have questions while installing and using Reflow, reach out to us.
What's New
Reflow Version 1.6.0
This release includes new features, quality of life updates, and huge performance improvements.
Reflow 1.6.0.82 Hot Fix - 6/17/2022
Fixes an issue with station tree ORD pickers running on embedded devices that could prevent the station tree from loading in the Reflow Config View
Performance Improvements
Reflow will now compress and cache application and configuration files that get served to web browsers. In performance testing, the Reflow application loads 60-70% faster when caching is enabled, and configuration data transferred is reduced by up to 95%, dramatically increasing initial load times when the configuration is cached. For more details, see the Web Cache documentation.
Multiuser Config Support
The new Multiuser Configuration Mode makes it possible for multiple users to edit the Reflow configuration simultaneously without overwriting each other. In addition, the Single User mode has had improvements made that prevent accidental overwrites in that mode. See the Configuration Modes section below for more details.
Important - We're rolling this feature out slowly and want to hear your feedback on quality and performance. During the 1.6 cycle, this mode will be disabled by default, but we encourage you to try it out in safe environments and let us know what you think!
Equipment
Device Lists

Filtering by building and searching by device name has been added to the list UI
An Add button has been added next to Edit. This will make adding devices to long lists easier than having to scroll to the bottom of the list to access the Add New Devices list item
The Edit button has been given an icon
The Sort Alphabetically button has been given a label and a confirmation dialog will appear before the list is sorted
A new bulk action to assign and remove schedules for devices has been added to the Actions menu

New static images have been added to the Equipment Library for VAV, AHU, FCU, VFD, MUA, and WHP
Reflow's built-in equipment types now have default thumbnails set automatically, sourced from Equipment Library images

Default thumbnails are only set in new configurations, existing configurations are unaffected
To use the new defaults on an existing configuration, open the Equipment Type Settings and choose Default in the Equipment Type Thumbnail image picker

The Graphics Settings configuration menu has been broken out in to sub menus due to the amount of options now available
Hide Input Level in Status Badges is now enabled by default for new configurations (this does not affect existing configuration files)
Carrier Comfort Network table components are treated as point folders in Reflow devices (components with type ccn:CcnTableGroup or ccn:CcnPicTable)
Device Graphics
Point Card Styles - the style of cards used in graphics can be set globally and customized for each device using the Point Card Style property. Options include:

Classic - Classic style Reflow point cards, relatively unchanged from previous versions of Reflow
Compact - Points for each group are displayed in a single card, allows for more points to fit in the same area of the page
Point Card Markers - add additional context to points with Point Card Markers

Markers can add badges, dots, or change the point name font color
Manage Markers globally in the Equipment > Graphic Settings > Device Graphic Pages configuration menu
Markers can be applied to points in Point Templates and/or while editing a device's points list, using the new badge icon next to the featured star icon
Classic Point Card design updates

A new option for displaying status has been added called Auto. It is set by default on new configurations. This option works similarly to the When Expanded option, however it will display status on collapsed cards if that status is controlling the border color
Status Badges

Individual badges are used for each status keyword instead of a single badge with all keywords
Only the most important badge (which also controls the card border color) will be in colored by status, other badges will be gray

Readability Improvements

Point name font weights have been increased
Point name and point value font colors have been darkened, hovering over a card makes this color even darker
The light gray background used in large cards has been replace with a white background

The light gray background behind small point cards has been removed on all graphics, instead of just those without large point cards

Graphic Size & Position

The new Position property in each device's Graphics configuration can be used align the graphic to the right side of the page in addition to the classic left-aligned style
You can now customize the width of images/embedded views on the device graphics page using the Graphic Width property. Options include:

Auto - width of graphic is determined by screen size, large card count, and card style
Full - graphic takes up the entire width of the page
Large - graphic takes up 65% of the page when the screen size is large enough
Small - graphic takes up 50% of the page when the screen size is large enough

As in previous versions of Reflow, graphics with no large point cards will be automatically set to Full width
It is now possible have a graphic with groups of large point cards and a full width embedded view/image
Embedded views with a Niagara View Height set to Auto will have their heights adjusted to be proportional, to the chosen Graphic Width; with wider views having larger heights

Misc

Global defaults for Point Card Style, Graphic Width, and Graphic Position can be set in the Equipment > Graphics Settings > Device Graphic Pages configuration menu
Histories
Delta Charts - a Delta button has been added to history charts and dashboard cards, toggling it on will display the history changes over time instead of the raw values. This option can be turned on automatically from dashboard card configurations
The time period dropdown has been moved below the history title
The controls in the top right of history charts have had minor design updates
Dashboard Cards
History Sparkline and History Chart cards now support delta views
Device Summary Card - leverage the power of Reflow's equipment type summary views in dashboards with this new card. Both grid and table options are supported, you can display all devices of a type or select specific ones
Floor Plan Editor
Marquee Selection Tool

Click and drag in empty areas of floor plans to use a marquee selection tool
Holding Shift while using the marquee selection will add items to the selection
Holding Alt (Windows) or Option (Mac) will remove items from the selection
Elements Pane

Holding shift when selecting elements in the Elements pane will now select all elements between an existing selected element and the element that is clicked on
Holding Control (Windows) or Command (Mac) will select only elements that have been clicked
Locking

Elements can be locked by selecting them in the pane and using the new Lock toggle button on the bottom right
On the canvas, locked elements cannot be selected or moved and allow you to click through them
Locked elements are still selectable in the Elements Pane list
Elements can also be locked/unlocked by using the right-click context menu
Additional macros are available in the Macros tab to quickly lock and unlock all layers

Label Element

Label Elements that have Reflow Device point bindings can use dynamic variables for Title and Info Line properties:

$ROOM will be replaced with the assigned room on the device (either by slot or by setting the property in the device config)
$DEVICE will be replaced with the device's name
$POINT will be replaced with the point's name

Auto Labels (labels added with Auto Labels at canvas creation or the Add Equipment Labels macro)

Automatically have Title properties set to $DEVICE
Automatically have Info Line #1 properties set to $ROOM
The word Label is no longer appended to the device name in Title properties

The width of the accent mark (left border) can now be set in the Layout Options tab; this is disabled on mobile by default, but can be enabled by unchecking the Desktop/Tablet Only option under the Accent Width textbox
Alarms
The Alarms architecture has been significantly upgraded to support larger alarm databases and leverage station-side processing for alarm records
Alarm Consoles now have an unlimited record count. The Alarm Limit property has been removed from the ReflowService; it is no longer necessary to limit the amount of records returned by the service as records are paged server side
Each Alarm Console now remembers the last time period set when returning to the view after navigating away. This is saved per session and will be cleared on logout or when the web browser is closed
Alarms Toolbar

Toolbar has had minor design updates including being contained by a border
Alarm Sources and Alarm Details tables can be exported as CSV files with the new Export option
The time period dropdown has been moved under the page title
Alarm extension hyperlinks now load in the toolbar instead of under the title when enabled
The time period dropdown on Active Alarms pages was unnecessary and has been removed
User Profiles
A new option in each profile allows new content created in Reflow to be restricted by default. This ensures that profiles retain their existing access settings when new content is added
New buttons have been added to allow/restrict all content in the Access Settings UI
Reflow Config
Selection updates - when selecting multiple ORDs, including during adding devices and editing user profiles, you can now hold shift to select multiple items in one click. You can also double click a parent item to select all of its children
Who's Online

A new status indicator dot can be found at the top right of the Reflow Config View. It displays the current communication status and the number of users actively connected to the Reflow Config View
Clicking on the communication status indicator will open a list of active users (Config View users and end-users in the Reflow View)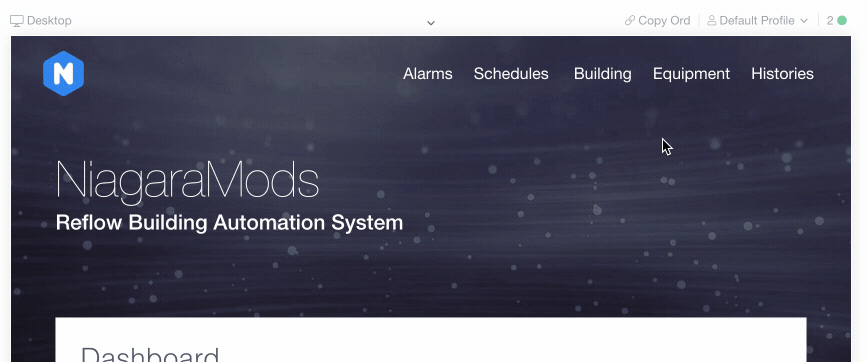 Configuration Modes

Single User Configuration Mode (default)

When changes are made in the Reflow Config View the entire configuration file is saved by overwriting the config.json file in the station file system (the same as in all previous versions of Reflow)
NEW Reflow Config View will prevent multiple sessions from editing the configuration at the same time. Sessions could be different users or the same user in a different browser tab. This safeguard has been put in to place to prevent issues where users overwrite each other's configurations without knowing it
NEW If the Reflow Config View is opened while another session is active, they will be prompted with a lobby screen where they can request control from the controlling session. If the controlling user does not respond within 30 seconds to deny the request, control will be given to the requester

Multiuser Mode (experimental)

Multiple users can simultaneously make changes to the configuration when this mode is enabled. Delta changes from each session are synchronized with the ReflowService and broadcast to other connected sessions
While we have rigorously tested this feature and feel it is ready for production, it is still a new system and it interacts with the most important part of Reflow (your save file). Out of an abundance of caution, this mode will be considered "experimental" and will disabled by default for the duration of the 1.6 release cycle
While Multiuser mode allows for simultaneous editing, it is not recommended to edit the same item that another user is working on, particularly editing the same floor plan. A warning will be shown in the floor plan editor if another user is editing it as well. You can also see if users are editing the same thing as you by clicking on the communication status indicator to open a list of users that are online and their location in Reflow
In addition to the station file system, Multiuser Mode stores configuration data in memory; this will cause Reflow to use more station resources vs Single User Mode
Multiuser Mode can be turned on by setting the Multiuser Config property of the ReflowService to Enabled
Documentation Updates
In addition to being updated with the latest information on 1.6.0 features, the documentation now includes a robust section on the ReflowService, including common issues and troubleshooting steps
Bug Fixes
History Sparkline cards at quarter size will longer show scroll bars when content overflows slightly
Inconsistencies between Niagara and Reflow alarm views have been fixed; most of these were due to the way alarms were filtered in Reflow as active alarms
Equipment

Fixed a bug that could cause errors in device graphics using points from a BCPBacnetNetwork
Fixed a bug in ord resolution for stations that have been migrated to 4.11 from earlier versions of Niagara. This issue caused issues loading schedules and the station file picker
Fixed an issue where remapping a device wouldn't recheck for points when the value wasn't specifically set to not have a value
Fixed margin and padding issues when assigning floors to multiple devices in an equipment type's devices list
Fixed spacing between the equipment name and floor name when bulk editing equipment floors
Fixed equipment sorting to sort first alphabetically, and then by natural numeric sorting

Floor Plans

Holding space while on the floor plan editor will now allow you to click through elements and allow drag to move
Fixed an issue that caused height and width to be equal when creating new floor plans and changing one of the values while Maintain Aspect Ratio was checked
Labels added to floor plans with the macro or at canvas creation will no longer position themselves off screen if the canvas is too small

Fixed an issue that sometimes prevented Niagara views from being loaded after an embedded Reflow HX view hyperlinked to another view
Past releases
Information on new features and bug fixes in past releases of Reflow can be found on the documentation website in the Change Log.
Are you a systems integrator?
Get an unlimited license for Reflow